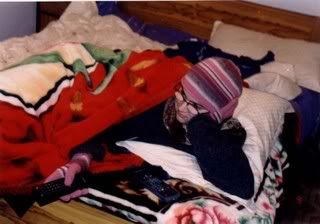 From December 26th until January 5
th
, we were in
Sichuan
. After the warmth of Hainan, the dark, cold, foggy days of
Chengdu
felt unbearable! Luckily Swatchy was all in natural fibers – wool, alpaca and silk. He was warmer than I was! Here's a photo of me from a few winters ago, freezing during the day in our Chengdu apartment.
Did you know that
Sichuan
is the home of the panda? The city has done well to adopt it as their mascot:
After visiting with Daniel's sisters Jade and Chrysanthemum and their families for a couple of days, we headed off to Daniel's rural hometown in
Nanbu
County
. "Headed off" sounds rather faster than it actually was: our travel was delayed for a day and a half because the highway was closed due to fog. Then on the second day, we only made it so far as the county seat, where we had to find a hotel for the night.
The best part of the travel was being with our 5-year old niece, Ting-ting. That night in the hotel, she reveled in a "swim" in the hotel bathtub: she'd never bathed in more than about a gallon of water! Here she is with Swatchy. They became very close – Tingting was an excellent Chinese teacher! (it was hard for me not to leave Swatchy with Tingting, who has only two or three toys)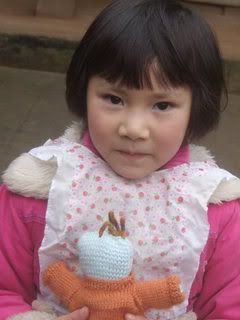 When we got to Beiwan town, we met Daniel's parents and began the walk to their village. It took us at least twice the normal time to walk the 3km to Daniel's parents' house, the road was so slippery and the mud so sticky. When we got there, Swatchy needed a rest.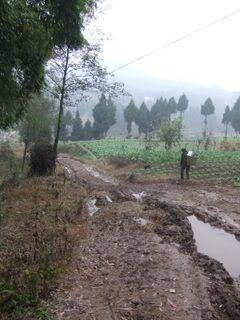 We all perked up when Mama and Baba brought out lunch – rice & corn polenta fried with fresh bacon: a hometown specialty!

Here's one of the neighbor kids, who we called Meimei (Little Sister) who also had a great love for Swatchy Hugz. Here they are, having a little chat:
And here's a pic of Tingting and Meimei in an irresistibly sweet moment:
I have lots more photos to upload, so look for new adventures of Hugz in the coming days! He dodges bird flu, poses again in tropical locations, samples local cuisine and more!