Hey you guys!
It's awesome to see that all of the Swatch clan have been out and about in weeks past. Celeste, Daniel and I got back from China on Saturday night, and we were busy unpacking all day long. Celeste is already dozing off, so I only have a few minutes to write.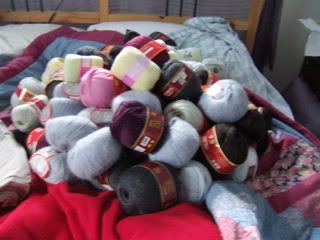 She's a little embarassed about how much yarn she bought.
We were out of touch because an earthquake in Taiwan disrupted Internet service to China. Now that we're back States-side, I'll have a chance to let you in on all the fun we had in China. For now, we're both pretty tuckered from the 13-hour time difference. Celeste has to work tomorrow, but we'll try to get some photos upoaded and shared with you all!
Love,
Swatchy Hugz